In the earlier post, we talked about the exact definition of a promotional items, its different categories and main objectives.
A study was made in 2011 on this specific market by 2FPCO. Here are the main results.
Key figures of the promotional item market.
The promotional item itself is a very effective media as 70.4% of respondents have remembered the brand on the advertising items they owned.
Average cost per impact lower than other media.

Advertising items most possessed.
This communication tool is publicly known. Each person has an average of more than two categories of promotional items (2.6) : Writing objects 59%, T-shirts 36%, electronic products 24%, goodies (small products) 23% and calendars, 20%.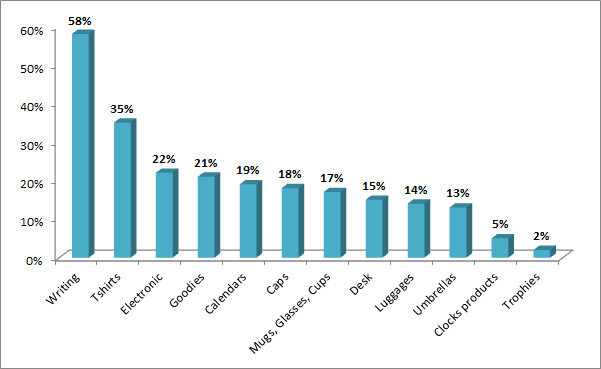 The advertiser generally chooses objects with a small price to reach larger masses, but to differentiate the track objects with higher value item is to study: it can include being positioned as a generous brand.

Advertising objects between sustainability and utility
Another remark in this investigation regards the shelf life of these objects. Bags hold the palm with more than 4 years, then textiles, mugs and other cups, T-shirts and watch products with a shelf life of 3 years and a half. So it seems that the higher the cost, the longer the object is stored.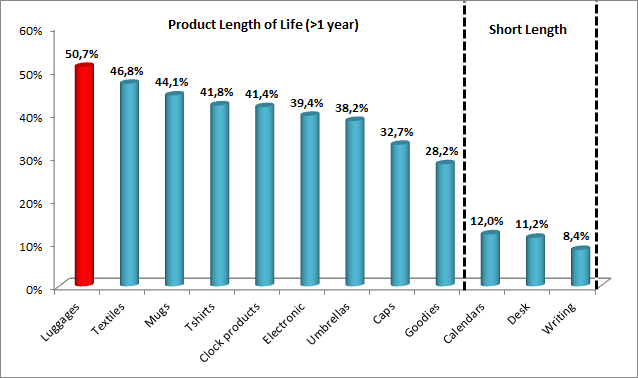 It is abundantly clear that any gift to be kept a while must be useful and practical.
The quality criteria, and therefore sustainability is particularly important but attractiveness and aesthetic remains as crucial especially when it comes to mugs and glasses, goodies or timepieces. The goodies are asked in addition to being fun and entertaining.
The consumers ask for promotional items : 76% of respondents are aware of the advertising object. Better, 60% want to receive more.
This public interest, demonstrates the effectiveness of this type of communication tool, which perfectly conveys the brand message. The offer is extremely large (about 15,000 types of products available) and costs reasonable, how to please both consumers and advertisers!
What to remember of all that ?
>> 76% of people give importance to advertising items.
>> 70.4% of people have memorized the Brand on the items they own.
>> 60% of respondents would like to receive more.
I hope that it convinced you about the effectiveness of the promotional gifts. We can help you to source your promotional items, Existing or customed. Do not hesitate to talk to us about your project!
Stay tuned folks!
Your one and only NOMAD POWER TEAM