After the globalization of the brands, followed by the glocalization , the latest trend is mass personalization … localized globalization customized to your name , no less!
More seriously, it is the action of making an item personnal to adapt and individualize the offer. It is closely associated with notions of privilege and preferential treatment. Given the changing consumer expectations, we could not miss out on this trend. Once this mass customization can integrate production techniques for manufacturing large quantities of products each retain specific characteristics corresponding to expectations. The advantage is that this approach allows to respond more precisely to customer demand, the challenge is to achieve cost control.
The mass personalization, also a marketing technique used by the brands to counter competition from private labels and to compensate for their higher prices. It thus plays the emotional card to strengthen the brand – customer relationship and creates a sense of exclusivity; it is not therefore reserved for luxury clients. The 3 in 1 solution!
Obviously, there is a feeling that this is all new and beautiful thanks to Coca -Cola & Nutella and their marketing helping to create packaging named after their consumers. Customization pushed to the limit … You still have confessed that it is smart!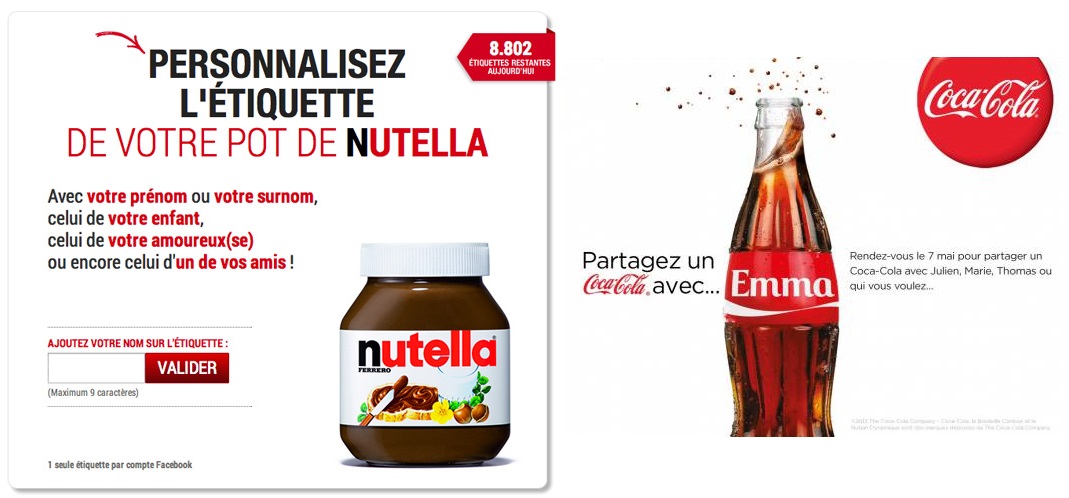 But, they were still not the first, as examples, some good marketing customization:
• Starbucks cups with your name written on the cups (or an approximation of your name)
• Mc Donald and his operation «My Burger " that allowed its customers to create a burger recipe online. The best ones were sold in the restaurants.
• Desperados and mixtures of different flavors to create a unique beer. It was also possible to change the label of the bottle.
• Nike shoes you could customized
For fans of marketing, it is a very interesting topic , I suggest you go on the net there are some very nice analysis of the best marketing moves, interest in this type of operation, the brakes and especially in a sector that moves at the speed of light, or almost , the future of this trend.
USB key mass personalization by NOMAD USB !
You know that the promotional items are one of the best means of communication for your brand. You also know, it is possible to create a USB stick completely to your image & entirely new to the market .
You also have the opportunity to create individualized USB key. Yep, that's right! And we have the chance to offer this service! It is possible to create keys customized with names of your customers, suppliers, friends, serial number etc.
Earlier, we talked about costs. Indeed, we cannot use any technique, otherwise it would be crazy expensive. Thus, the impression is excluded from the process as it would require a printing film for each name or molded logo ( it would take a mold for each name, thank you to those who follow ) . To know more about the different printing techniques, here it is.
But the modern world created computer & laser. The modern world created LASER ENGRAVING by COMPUTER !
More seriously, it is possible to customize your order by laser engraving. On the one hand your logo on the other the personalization.
The support/casing must be made of metal (or possibly wood).
You can customized a METAL USB KEY
Or you can customize metal boxes, the you will have the opportunity to create the key of your choice : plastic support, doming or USB key custom soft PVC and put it in a metal box engraved with the name of its future owner . Qualitative side ++ guaranteed!
You send us an Excel file with a list of names, serial number etc. . and you will have your custom USB key !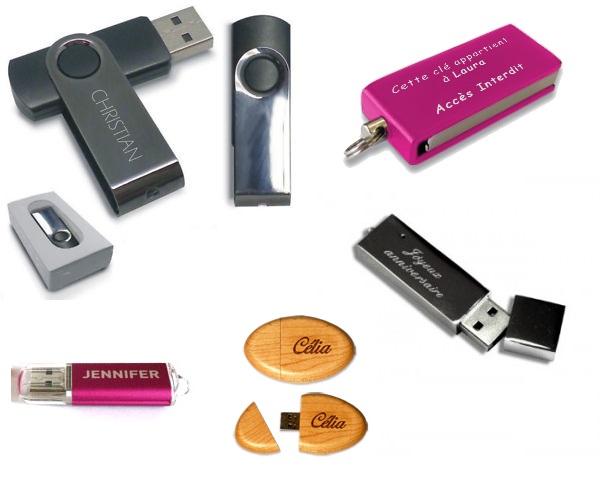 Stay tuned folks!
Your one and only NOMAD POWER TEAM